Am 7. Oktober 2016 wird eine weitere Compilation der "Top Of The Clubs"-Reihe erscheinen: Die Sampler-Reihe geht in ihre nunmehr 72. Runde und offeriert dem Zuhörer wieder einmal einmalige Tracks auf drei CDs. Wir werfen mit euch gemeinsam einen Blick vorab auf die Trackliste.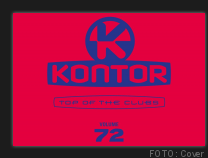 Die erste CD wurde von Jerome gemixed und startet mit "Say To Me" von
WHTKD, gefolgt von
Lotus, SPYZR und Salt N Pepa mit "Push It" sowie
DJ Antoine und Conor Maynard und ihrem Hit "Dancing In The Headlights". Selbstverständlich findet sich hier auch der Radiodauerbrenner "Please Tell Rosie" von
Alle Farben und YOUNOTUS
wieder. Darüber hinaus komplettieren Künstler wie
Martin Solveig, Sam Feldt, Mø, MOTi, Laidback Luke, Tiësto, Steve Aoki und Armin van Buuren
das musikalische Angebot.
Der zweite Silberling wird seinerseits von
Lost Frequencies und Sandro Cavazza mit "
Beautiful Life" im Henri PFR Remix und Dimitri Vegas & Like Mike mit "Stay A While" im ATB Remix angeführt. Ebenso finden sich unter anderem Remixe von Nicolas Haelg und Joris Voorn hier ebenso ein, wie beispielsweise Musiker wie EDX, Nora En Pure, MÖWE, Kyle Watson und Moonbootica. Gemixed wurde die CD von Markus Gardeweg.
Die letzte CD der Compilation wurde von Neptunica gemixt und versteht mit Tracks wie unter anderem "Sing Me To Sleep" von Alan Walker im Marshmello Remix und "Rand Der Welt" von Stereoact und Jakob Wiss zu überzeugen. Darüber hinaus wissen Künstler wie Coldplay, Qunitino, Calvo, Rain Man und Julian Jordan die Zuhörer in Ekstase zu versetzen. Ebenso ist selbstverständlich Neptunica mit "Poseidon" hier vertreten.
Einige neue, exklusive Produktionen und eine gelungene Zusammenstellung werten die drei CDs auf, sodass man einen Kauf durchaus empfehlen kann. Wer den Sampler "Kontor - Top Of The Clubs (Vol. 72)" vorbestellen möchte, kann dies problemlos ab sofort beispielsweise
bei Amazon.de
erledigen. Nachfolgend für euch nochmals die gesamte Trackliste in der Übersicht sowie der offizielle Minimix zum Vorhören:
CD1:
Mixed by Jerome
1. WHTKD - Say To Me
2. Lotus, SPYZR & Salt N Pepa - Push It
3. DJ Antoine feat. Conor Maynard - Dancing In The Headlights (DJ Antoine vs. Mad Mark & Paolo Ortelli 2k16 Club Mix)
4. Filatov & Karas - Tell It To My Heart
5. Alle Farben feat. YOUNOTUS - Please Tell Rosie
6. Martin Solveig feat. Tkay Maidza - Do It Right
7. Hirschwell - Wie die Wolken (Gestört Aber GeiL Remix)
8. Sam Feldt x Lucas & Steve feat. Wulf - Summer On You
9. Fun Factory - Close To You (Dimaro Extended Mix)
10. Jerome feat. Megan Vice - All About Tonight
11. Mø - Final Song (Jerome Price Remix)
12. Der HouseKaspeR - A Beautiful Life
13. MOTi feat. Nabiha - Turn Me Up (ViP Mix)
14. Laidback Luke & TWOLOUD - Fcukin Beats
15. Pep & Rash x Lucas & Steve - Enigma
16. Tiësto & Mike Williams - I Want You
17. Dave Winnel - Old School
18. Steve Aoki & Autoerotique - ILYSM
19. David Togni - I'm Gonna Be (500 Miles) (Claim Cracker Remix)
20. Armin van Buuren vs MainX - 88 To Piano
CD2:
Mixed by Markus Gardeweg
1. Lost Frequencies feat. Sandro Cavazza - Beautiful Life (Henri PFR Remix)
2. Dimitri Vegas & Like Mike - Stay A While (ATB Remix)
3. Starley - Call On Me (Hella Remix)
4. Apexape - Joy & Pain
5. EDX - My Friend
6. Gareth Emery feat. Lawson - Make It Happen (Nicolas Haelg Remix)
7. Disclosure - BOSS
8. Nora En Pure - Convincing
9. Anton Powers - Love You Better
10. Calippo - Ain't Nothing Hurting
11. Blondee & Marc Werner feat. Fabienne Rothe - After All
12. Manuel Riva & Eneli - Mhm Mhm
13. MÖWE feat. Bright Sparks - Your Skin
14. AirDice - Share This
15. Kyle Watson - Moments
16. Dennis Ferrer feat. Ben Westbeech - Right Thing
17. Mandal & Forbes & Bauuer feat. SJ Johnson - Be There
18. Moonbootica - Hear Your Love
19. Erick Morillo vs. Eddie Thoneick feat. Angel Taylor - Lost In You
20. Digitalism - Utopia (Joris Voorn Remix)
CD3:
Mixed by Neptunica
1. Mike Perry feat. Shy Martin - The Ocean
2. Komo feat. Clare Sophia - Let Me Love You
3. Alan Walker - Sing Me To Sleep (Marshmello Remix)
4. Coldplay - Hymn For The Weekend (Seeb Remix)
5. Yellow Claw feat. Yade Lauren - Invitation
6. Quintino x Cheat Codes - Can't Fight It
7. Stereoact feat. Jakob Wiss - Rand Der Welt
8. J Joy - Lovelife
9. Sono - Twist In My Sobriety (Neptunica Remix)
10. Neptunica - Poseidon
11. Chassio feat. Michelle Hord - Make'm Move
12. Felix Leiter - Be Free
13. Sultan + Shepard feat. Gia - Love Me Crazy
14. Spankers feat. Timeka Marshall - Cock It Up (Paolo Ortelli & Luke Degree Extended Mix)
15. Rico Bernasconi & Ange feat. Filatov & Karas - Ride On
16. Neptunica feat. Maiden Rose - Demons
17. Calvo feat. Donata - Hard 2 Find
18. Jacky Greco feat. Snoop Dogg, Arlissa & Jakk City - Blow (Jerome Extended Mix)
19. Rain Man feat. OLY - Bring Back The Summer (Not Your Dope Remix)
20. Julian Jordan - Midnight Dancers