Seit Freitag ist auch eine weitere Compilation aus dem Hause Coco Beachs auf dem Markt erschienen: Hierbei handelt es sich um die so genannte "Love, Peace & Flower Power", die sowohl digital als auch als Compilation verfügbar ist. Nachfolgend erhaltet ihr alle weiteren Informationen diesbezüglich.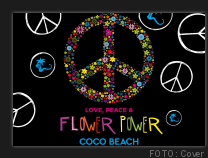 Der Coco Beach Ibiza ist in einer der schönsten Buchten der Playa d'en Bossa gelegen und lädt mit einer Mischung aus exquisitem Restaurant und exklusivem Strand Club zum Feiern und Genießen ein. Ein perfekter Ort zur Alltagsflucht. "Love, Peace and Happiness" war das Lebensmotto Hippies Ende der 60er Jahre. Ein Lebensgefühl, dass auch noch heute auf der Sonneninsel Ibiza zelebriert wird. Die Compilation versucht jenes Lebensgefühl nun auf zwei CDs zu verewigen.
Die Compilation besteht aus zwei CDs auf denen insgesamt 40 Tracks vertreten sind. Die erste CD startet dabei mit dem Track "San Francisco" von Scott McKenzie, gefolgt von "Son Of A Preacher Man" von Dusty Springfield und "Games People Play" von Jow South. Desweiteren finden sich hier Musiker wie The Guess Who, The Animals, Humble Pie, Melanie, Santana, Jan Baez und Donovan ein.
Die zweite CD wird ihrerseits von The Lovin' Spoonful mit "Summer In The City" angeführt. Ebenfalls ist hier unter anderem der Track "Good Vibrations" von The Beach Boys vertreten. Künstler wie The Flowerpot Men, Marmalade, Sonny & Cher, Vanity Fare, Zager und Ten Years After verleihen dem zweiten Silberling darüber hinaus ihre ganz persönliche, musikalische Note.
Falls euch die Compilaton zusagen sollte, dann könnt ihr sie beispielsweise
hier über Amazon.de
erwerben. Nachfolgend nochmals die gesamte Trackliste in der Übersicht:
CD1:
01. Scott McKenzie - San Francisco (Be Sure to Wear Flowers In Your Hair)
02. Dusty Springfield - Son Of A Preacher Man
03. Joe South - Games People Play
04. The Guess Who - American Woman
05. Small Faces - Lazy Sunday
06. The Fifth Dimension - Aquarius / Let the Sunshine In (The Flesh Failures)
07. The Animals - House Of The Rising Sun
08. Janis Joplin - Mercedes Benz
09. Fleetwood Mac - Albatross
10. Humble Pie - Natural Born Bugie
11. The Moody Blues - Nights In White Satin
12. Melanie - Ruby Tuesday
13. Bob Dylan - Like A Rolling Stone
14. The Easybeats - Friday On My Mind
15. Albert Hammond - It Never Rains in Southern California
16. Santana - Samba Pa Ti
17. Eric Burdon & The Animals - San Franciscan Nights
18. Joan Baez - Blowin' In The Wind
19. Norman Greenbaum - Spirit In The Sky
20. Donovan - Atlantis
CD2:
01. The Lovin' Spoonful - Summer In The City
02. Pete Seeger - Where Have All the Flowers Gone?
03. Simon & Garfunkel - Mrs. Robinson
04. The Flowerpot Men - Let's Go To San Francisco
05. The Byrds - Mr. Tambourine Man
06. Procol Harum - A Whiter Shade Of Pale
07. The Beach Boys - Good Vibrations
08. Marmalade - Reflections Of My Life
09. The Kinks - Lola
10. The Lemon Pipers - Green Tambourine
11. The Monkees - I'm A Believer
12. Barry McGuire - Eve Of Destruction
13. Sonny & Cher - I Got You Babe
14. The Spencer Davis Group - Keep On Running
15. The Tremeloes - Silence Is Golden
16. Vanity Fare - Hitchin' A Ride
17. The Walker Brothers - The Sun Ain't Gonna Shine Anymore
18. Zager & Evans - In the Year 2525
19. The Mamas & The Papas - Monday, Monday
20. Ten Years After - I'm Going Home