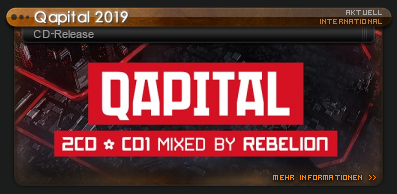 Am 6. April findet im Ziggo Dome wieder eins der größten RAW-Style Events weltweit statt: QAPITAL. Hierzu veröffentlicht Q-Dance eine Doppel CD, die euch in die passende Partystimmung bringt.
CD1, wurde von Rebelion, der auch die Hymne für Qapital produziert hat, gemixt. Hier ein paar Künstler: Rampage (Rebelion & Ncrypta ft. Last Word), Edge Of Glory (Phuture Noize), Blackout (Adaro & Kronos), Take It Off (Malice) und die Hymne Rise From The Streets (Rebelion)
Auf der zweiten CD packt Q-Dance seine aktuelle Favoritenplaylist mit unter anderem: The Contagion (Sub Zero Project ft. Christina Novelli), Inside My Head (Deetox), Higher Force (E-Force & Kronos), Room Rocker (Mind Demension), Beastmode 2.0 (Killshot)
Qapital ist ab dem 5. April erhältlich.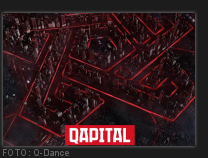 TRACKLIST:
CD1 mixed by Rebelion
1 Rebelion - Rise From The Streets (QAPITAL 2019 Anthem)
2 Adaro & Kronos - Blackout
3 Phuture Noize - Edge of Glory
4 Warface & Sub Sonik ft Carola - Set Me Free
5 Rebelion - Salvation (Delete Remix)
6 D-Sturb & High Voltage - Universe
7 Crypsis - Combination Style
8 Ncrypta & Sub Sonik ft. MC V - F.W.T.S
9 Rebelion - On The Run
10 Delete ft MC Livid - Don't Hold Back
11 Dither - Terminate
12 Endymion - Gladiator (Rebelion Remix)
13 Rooler - Domination
14 Radical Redemption - Wanted Man
15 Delete - Lunatic
16 Rebelion & Ncrypta ft. Last Word - Rampage
17 Malice - Take It Off
18 Warface & Delete - Game Over
19 Malice ft Tha Watcher - The Extreme
20 Rebelion - Corruption
21 Warface & Rebelion - Detonated
22 Krowdexx - Victim Of Society
23 Deadly Guns & Rebelion ft. Sovereign King - Power of Truth
CD2 Curated by Q-dance
1 Deetox & Clockartz - Music
2 B-Freqz - Robot Talk
3 Hard Driver ft. Dani Omega - Till The End
4 Sub Zero Project ft. Christina Novelli - The Contagion
5 Rude Convict - Free Your Mind
6 Deetox
- Inside My Head
7 Imperatorz - Fake Ass Bitches
9 Degos & Re-Done - Blinded
10 Invector - The Realness
11 Requiem - The Reckoning
12 Enemy Contact & Scabtik - Nocturnal
13 E-Force & Kronos - Higher Force
14 Legion - Got The Style
15 Sub Sonik - M.F. Psycho (Uncaged Remix)
16 Raxtor - Moshpit
17 Act of Rage - Brain Confusion (Ncrypta Remix)
18 Delete - Pulse (Mind Demension & The Purge Remix)
20 Regain & Rooler - Bust Ya Head
21 Mind Demension - Room Rocker
22 The Purge - Take It
23 Malice - Be The One
24 Killshot & Nolz - Beastmode 2.0
www.beyourselfmusic.com / www.q-dance.com